mardi 20 janvier 2009
Sevrage de blog, Daring Bakers et une Bûche typiquement française
I've been away.
Physically and mentally.
I've been on holidays, job and blogging.
And I must confess It was a very interesting rest.
Asking myself about food, photography, writing restraint, reading obligation, time wasted on my sofa with the laptop on my knees ...

I've been cooking though.
But time was the most precious thing I had those previous months, to sleep first, and to take things easy.
I have no regrets.
It wasn't deliberate first, but I really appreciated this break.



J'étais ailleurs.
Physiquement et dans ma tête.
J'ai pris des vacances, de boulot et de blog.
Et je dois vous avouer que ces vacances ont été enrichissantes.
Réflexion sur la nourriture, la photo, l'écriture contrainte, la lecture forcée, et tout ce temps gaspillé passé sur mon canapé avec mon ordinateur sur les genoux ...

J'ai cuisiné pourtant.
Mais le temps était la chose la plus précieuse dont je disposais ces derniers mois, pour dormir tout d'abord, et aussi pour prendre un peu le temps de vivre.
Je ne regrette pas.
Ce n'était pas volontaire mais j'ai franchement apprécié cette pause.


Bad Baaaaaad hostess I've been this month !
When my friend Hilda asked me if I was ok to co-host the december's challenge, I automatically said YES, without thinking about TIME. I can't refuse anything she suggested :)
December is a special month, and it was great to look for a good, tasty, funny, audacious and seasonal recipe.
A french Yule Log was THE idea. To make you bake a fantastic dessert you'd never dare to bake alone.
We're Daring Bakers aren't we ?
I baked a test log just before submitting the challenge to our dear Lis and Ivonne, to check that it was do-able and delicious enough. And it was ! Exciting, easier than I thought, and yummyyyyyyy !!!!!
Ouuuuuuuh la mauvaise hôtesse que j'ai fait ce mois ci.
Quand Hilda m'a demandé si je voulais bien être co-hôtesse avec elle en décembre, j'ai répondu OUI dans la foulée, sans me demander si j'aurais le TEMPS. Je ne peux rien refuser à Hilda ;)
Décembre est un mois un peu spécial, et ce fut vraiment agréable de chercher la recette savoureuse, amusante, audacieuse et de saison.
La bûche de Noël version française, c'était CA l'idée géniale. Vous faire faire un dessert pas croyable que vous n'auriez jamais tenté tout seul. Nous sommes des Daring Bakers n'est ce pas ?
J'ai fait une bûche test avant de soumettre l'idée à Lis et Ivonne, pour vérifier que c'était faisable et suffisamment bon. Et c'était le cas ! Passionnant, plus facile que je ne croyais, et boooooooon !!!!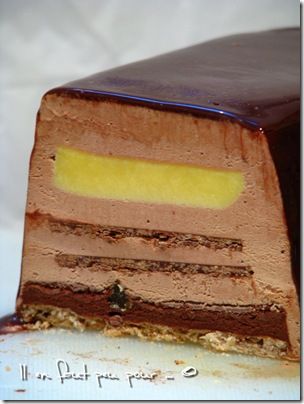 This photo is the test Log I've baked with the 6 required elements :
- Hazelnut dacquoise
- bittersweet chocolate ganache
- praliné-feuilleté inserts
- Milk-Chocolate mousse
- Crème brûlée insert
- Dark Chocolate Icing

I wanted to try other flavours for the definitive one. A raspberry-lemon-nougat one. It was as delicious as impossible to shoot :( So I can't show you any picture of that delicious thing that everybody ate in an impressive silence. You have to believe me :) I'll try to bake little ones later and show you if I can.
Today you'll have to settle for the recipe only :)
Sur cette photo, voud avez la bûche test avec les 6 éléments demandés :
- la dacquoise noisette
- la ganache au chocolat amer
- les inserts praliné feuilletés
- la mousse au chocolat au lait
- l'insert crème brûlée à la vanille
- le glaçage chocolat noir
Pour la bûche définitive, j'ai voulu essayer d'autres parfums. Framboise-Citron-Nougat. Et ce fut aussi délicieux que catastrophique à photographier :( Aucune image à vous montrer de cette délicieuse petite chose dégustée dans le plus grand silence, vous devez me croire :) J'essaierai d'en refaire des petites et vous faire une photo convenable.
Aujourd'hui vous devrez vous contenter de la recette :)
Raspberry-Lemon and Nougat Yule Log or Entremet
(on courtesy of Flore webmaster of Florilège Gourmand)
Dacquoise Amande (adapted from here, in french)
- 100g egg whites
- 50g icing sugar
- 25g caster sugar
- 15g all purpose flour
- 80g almond meal


Finely mix the almond meal and the confectioner's sugar. (If you have a mixer, you can use it by pulsing the ingredients together for no longer than 30 seconds).
Sift the flour into the mix.
Beat the eggs whites, gradually adding the granulated sugar until stiff.
Pour the almond meal mixture into the egg whites and blend delicately with a spatula.
Grease a piece of parchment paper and line your baking pan with it.
Spread the batter on a piece of parchment paper to an area slightly larger than your desired shape (circle, long strip etc...) and to a height of 1/3 inches (8mm).
Bake at 350°F (180°C) for approximately 15 minutes (depends on your oven), until golden.
Let cool and cut to the desired shape.
Nougat mousse (click here, in french)
- 200g milk
- 2 egg yolks
- 10g caster sugar
- 230g heavy cream
- 200g nougat paste (or soft nougat)
- 6g gelatin
- 20g all purpose flour


Soak the gelatin in cold water.
Put the milk in a saucepan on medium heat and melt the nougat in. Blend finely.
Whisk the egg yolks with the sugar until foamy, then add the flour and the melted nougat. Return back to medium heat and bring to a boil. Dissolve in the well drained gelatin sheets. Let cool to room temperature.
Whip up the cream, and mix with the nougat. Refrigerate.



Praliné feuilleté (click here, in french)
- 100g milk chocolate
- 30g praliné
- 25g unsalted butter
- 60g lace crepes


Melt the chocolate and butter in a double boiler.
Add the praline and the coarsely crushed lace crepes. Mix quickly to thoroughly coat with the chocolate.
Spread between two sheets of wax paper to a size slightly larger than your desired shape. Refrigerate until hard.
Lemon Curd (recipe here, in french)
- 2 lemon juice + zests
- 60g unsalted butter
- 125g caster sugar
- 3 eggs
In a saucepan over medium heat, mix the lemon juice with sugar and butter until melted.
Add the zests and the eggs, whisked.
Turn the heat on low and stir until thickened. Let cool at room temperature and refrigerate.
White Chocolate Icing (click here, in french)
- 3g gelatin sheets
- 100g white chocolate
- 30g unsalted butter
- 90 g whole milk
- 30g glucose syrup

Soften the gelatin in cold water for 15 minutes.
Coarsely chop the chocolate and butter together.
Bring the milk and glucose syrup to a boil and add the gelatin.
Pour the mixture over the chocolate and butter. Whisk until smooth.
Let cool while checking the texture regularly. As soon as the mixture is smooth and coats a spoon well (it is starting to gelify), use immediately.



I didn't want to put a creme brulée insert in this Log because I didn't have the time to bake it. I just added fresh raspberries :)
Assembling/Montage :
If you want to make a Yule Log, you'll have to put the ingredients this way in a loaf tin or equivalent (lined with rhodoïd, plastic film)
- 1/3 of the nougat mousse
- 1/2 praliné feuilleté insert
- 2nd 1/3 of the nougat mousse
- 1/2 praliné feuilleté insert
- last 1/3 of the nougat mousse
- fresh or frozen raspberries
- Lemon curd
- Almond Dacquoise
Cover and freeze until the D-Day.
Defrost in the fridge 2 or 3 hours before eating, coat with the icing 1h before serving.

Pour mes petits lecteurs francophones (les plus nombreux donc, et de loin), je vous ai mis les liens vers le site de Flore avec toutes les explications nécessaires, les photos et tout et tout :)
Promis, dès que j'ai le temps/le courage de m'y remettre je tente une jolie photo !



Edit du 25/01/2009 : voilà ! c'est refait !
Je vous présente la version Dacquoise noisette/lemon curd/framboise/mousse de calisson avec l'insert praliné feuilleté et un glaçage chocolat noir :)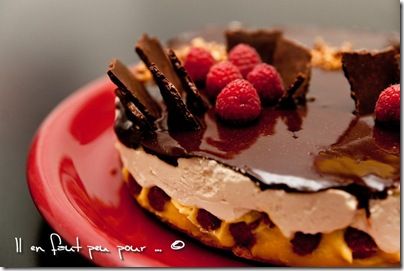 Tags :
buche
,
daring bakers
,
noël